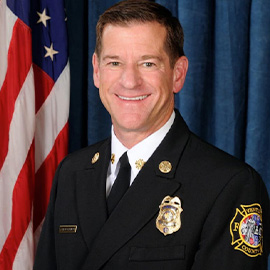 Chief Lorenzen begins his service on Monday February 7, 2022.
"I am excited to join the Menlo Park Fire Protection District Family and to serve the communities protected by the District. MPFPD is widely known throughout California as a progressive and high performing organization. I look forward to working with the talented men and women that have built the District's well-deserved reputation," remarks Chief Lorenzen.
President Jim McLaughlin observes "Chief Lorenzen brings a wealth of knowledge, experience, and professionalism and will provide strong leadership as we build on the accomplishments and strengths of our District."
The District is excited as we welcome Chief Lorenzen to continue to build on the legacies and tradition of excellence and service to the residents of the Menlo Park Fire Protection District.