Menlo Park Fire Protection District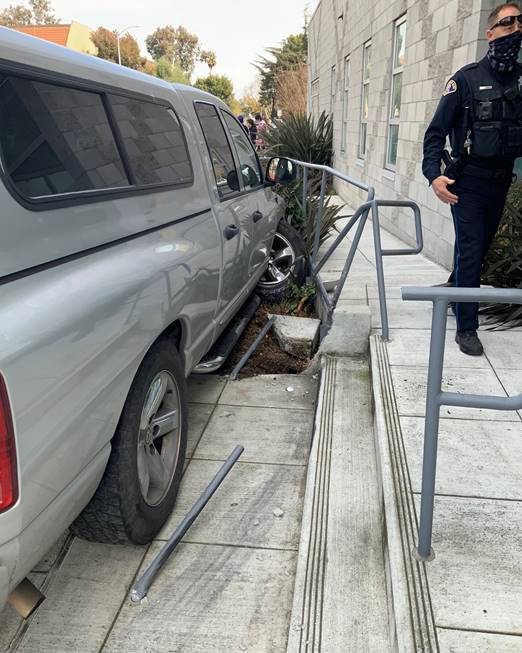 Pictured above – A Dodge Pickup Truck sustained significant damage when it almost struck the East Palo Alto Fire Station Tuesday afternoon - Credit Menlo Fire
Menlo Park Fire District Firefighters working out of Station 2 in East Palo Alto were inside the station located at the corner of University Avenue and Runnymede Street when they heard tires screeching and a loud bang just outside the front doors of the Stations public entrance, just after 3 pm, Tuesday afternoon.
Upon investigation, they found three teenagers in a Dodge Pickup Truck that had struck a retaining wall for the fire stations wheel chair access ramp and then the front steps to the building which inadvertently appeared to have deflected the truck from running into the structure itself. All three teenagers in the cab were uninjured, but the 17 year old un-licensed driver will have some explaining to do, after he admitted to Firefighters that he had "borrowed" his father's truck.
Fire Chief Schapelhouman said "this is the third time the fire station has almost been struck by a vehicle since being rebuilt in 2016. We added concrete bollards to protect the corner of the new structure when it was rebuilt and they have twice done their job extremely effectively. We also raised the overall height of the Station compared to the height of the street and sidewalk, which appears to have helped as well. This is an extremely fortified essential service building by design. That said, these kids are lucky no one was on the side walk and that they weren't injured themselves. We'll look at adding bollard style bases to the sheared off hand rails as well, because this is the first time a vehicle has made it down the building this far".
As shown above, the passenger side of the front of the truck suffered extensive damage and the Fire Station sustained thousands of dollars of damage as well, that ranged from broken and scared concrete, to sheered of metal pedestrian hand rails.
For more information from the Fire District please go to our web-site at www@menlofire.org: or follow us on Twitter, Facebook and Next Door
Please contact me with any questions.
Thank you!