PRESS RELEASE – February 25, 2021 Structure Fire Update - Almond Court Incident - East Palo Alto - Mother and Daughter Burned
Menlo Park Fire Protection District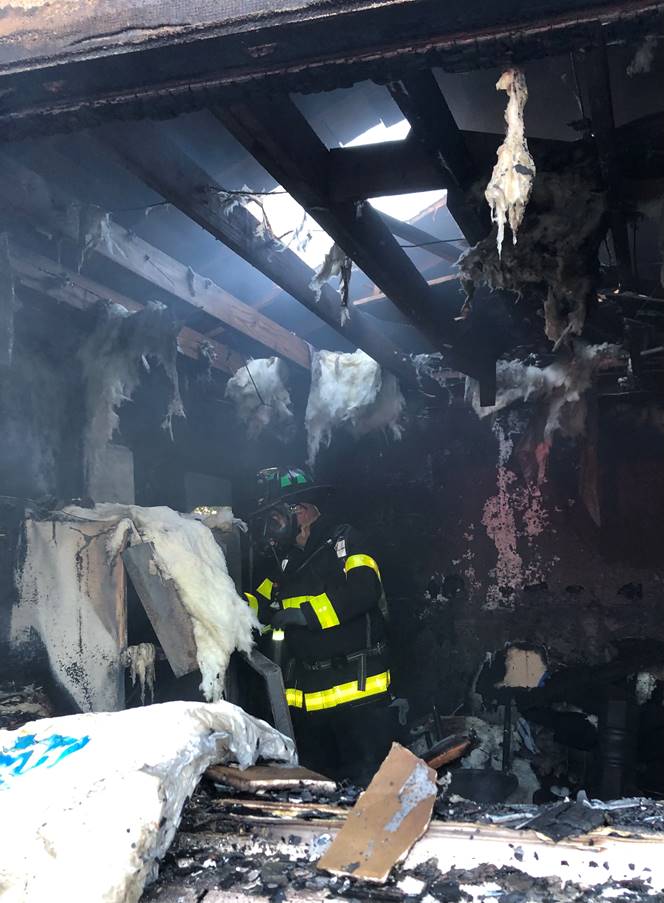 Pictured above – A Menlo Park Fire District Investigator searches for the cause of an early morning fire in East Palo Alto where a mother and daughter were burned and eleven people were displaced- Credit Menlo Fire
San Mateo County Public Safety Communications (PSC) received a call at 6:24 am reporting "a house was on fire on Almond Court in East Palo Alto, with a woman who was burned and other people who may still be inside the building". Additional callers also reported a home was on fire.
Menlo Park Firefighters were dispatched to the fire at 6:25 am with Engine 2 and Captain Blandford arriving first on-scene at 6:29 am, declaring "a working fire with at least one confirmed burn victim. He advised that the crew would directly attack the fire". Truck 2 arrived on-scene at 6:29 am and immediately searched the single story, 1,600 square foot structure for additional victims and along with Truck 1 that arrived at 6:32 am, performed almost simultaneous vertical roof ventilation by cutting holes in the roof, which allowed the smoke layer to escape and visibility to improve inside the structure. No additional victims were found inside the building.
Menlo Engine 77 arrived on-scene at 6:30 am and laid a supply line from the hydrant to Engine 2 and then treated the burn victim, who they reported as "having major burn injuries". Rescue 77 arrived on-scene at 6:31 am and together with members of Engine 77 determined "they had at least three actual burn victims, with as many as up to seven people who had been burned".
Acting Battalion Chief Ehren MacDonald arrived on-scene at 6:28 am, establishing incident command and requesting two ambulances respond to the scene when he received the burn victim update from Rescue 77. At 6:32 am he declared a multi-casualty incident (MCI) and requested a second alarm. A total of 4 Battalion Chiefs, two Ladder Trucks, one Rescue, eight Fire Engines and a Breathing Support Unit were now either on-scene, or enroute, to this expanding incident. In addition, the MCI brought in three American Medical Response (AMR) Paramedic Ambulances, a Field Supervisor and placed the closest trauma center, Stanford Hospital, on alert. A total of 38 Fire and 7 AMR personnel responded to the incident.
Medic 34 and 801 were cleared to transport the two burn victims directly to the burn unit at Valley Medical Center in San Jose. The third burn victim, who suffered minor burns and a hand laceration. refused treatment, as did all of the others.
The fire was "knocked down" at 6:55 am and six Menlo Fire Investigators, including the Fire Marshal, descended on the structure and starting their investigation at 7 am, talking to people who lived in the building, neighbors and searching for the origin and cause inside the burned out structure.
Fire Chief Schapelhouman said "this fire was a tragedy in the making, what our investigators have found is both disturbing and unbelievable! A young teenage woman was very seriously burned and her mother was also burned, but not as badly. The exact circumstances of what occurred remain unclear, but what is clear is that this building did not have a single working smoke detector and all eleven occupants, according to our firefighters, had some type or sign of burns and nine people refused treatment. The amount of non-code compliant modifications to the interior of this building defies not only logic but requires a much deeper dive into the history of this rental property and who did what, when and why. Deputy Chief Shaffer also responded to today's fire. He was first in to an early morning fire just like this on Fordham Street here in East Palo Alto in April of 1997, our firefighters had to rescue 11 people out of a small overcrowded house just like this one, we saved two, nine died, five of them were kids. I became the "morgues officer" when I arrived on-scene that day….we got very close to repeating that tragic event here, and that's simply unacceptable!"
More details will be released when available, the estimated loss to the contents and structure is $550,000. The Red Cross was called in to assist the other family members at 7:05 am and a virtual chat was supported by the Fire District. The cause and origin is still under investigation.
For more information from the Fire District please go to our web-site at www@menlofire.org: or follow us on Twitter, Facebook and Next Door
Please contact me with any questions.
Thank you!